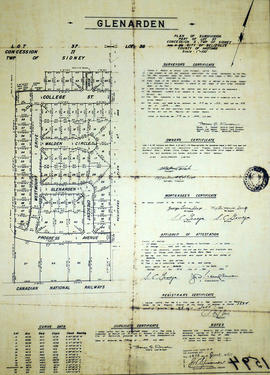 Glenarden Subdivision in the City of Belleville
A certified reproduction of the "Glenarden Subdivision- part of Lot # 37, Concession 2, Township of Sidney, now in City of Belleville- owner A L M O Developments Ltd." The area includes; north of C.N. Railway, north to both sides of College Street West. Lots # 1 to 65 and Blocks A, B, C on Progress Avenue, Glenarden Crescent, Westmount Drive, Walden Circle, College Street West and Thorncliffe Drive. Surveyed by Thomas S. Ransom, O. L. S. and signed June 17, 1964.
Donated by Walter I. Watson, P. L. S.
Ransom, Thomas Saunders, P.L.S.