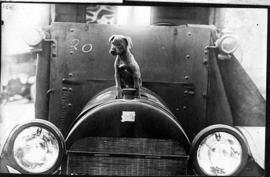 Grace B. Waters photograph albums
CA ON00156 GBW
Fonds
1914-1946
The First World War photograph album contains about 164 black and white or sepia photographs, 1 cartoon entitled "The same old moon", 1 coloured pencil sketch of a nurse. The album is Kodak's "Gallia" model (32.5x26x2cm) in plain black, textured leatherette. The photographs vary greatly in size from 21 x 14.5 cm to 8.5 X5.9 cm. About 40 of the photographs are signed either "E.R. Owen" or "E.R.O.". The first photograph is marked in pencil, "Donor G.B.Waters". Many of the photographs depict the Duchess of Connaught Canadian Red Cross Hospital in Cliveden, England. Many images depict the hospital at the time of a visit by King George V and Queen Mary, a visit by Sir Robert Borden, and a visit by Winston Churchill. There are images of the hospital wards both indoors and out, the cafeteria, the linen supply, and many patients (a lot of the patients seem to be wearing special issue hospital shoes) and nurses. Subjects include: nurses of the Canadian Army Medical Corps; funerals; women ambulance drivers; trenches, military hospitals.
The second album dates from 1916 to 1921. Identified locations include: Athabaska Hall; Banff (Alberta); Red Deer; Lake St. Helena; Edmonton; Sylvan Lake; Mount Royal; Montreal (from M.G.H.); Fort William [Thunder Bay]; Lake of the Woods; Moose Jaw; Markerville; Innisfail; New York. There are several photographs of farm scenes and some of medical personnel in white coats, holding human bones.
The third album includes photographs taken at a graduation at McGill University in Montreal; scenes of Niagara Falls; photographs of cars; two photographs of hospital rooms.
This collection also includes an annual report for Kingston General Hospital, 1906; a brochure for Queen's University Hospital in Cairo, c.1915; five panoramic postcards of Le Tréport, France, c.1915; a letter from 'Elsa' of Dickson, Alberta to Ivy, Clifford and Lloyd, discussing her new job as head of a teacher training department in Ethiopia, dated 5 August 1946, and two sheets of song lyrics for the following songs:
Sheet 1
Cupid is the Captain of the Army
I've Said My Last Farewell
Those Songs My Mother Used to Sing
The Bull-Frog and the Coon
Poker Love
The Good Old U.S.A.
So Long Mary
The Tale of a Stroll
Lazy Moon
Sheet 2
Fishing
I Would Like to Marry You
As We Swing, Sweetheart
Drummer Song
Dear Old Johnstown
When I Rode on the Choo Choo Cars
I Fell in Love With Polly
Hey! Mister Joshua
Hiram Green, Good-Bye
It Makes Me Think of Home, Sweet, Home
Waters, Grace Brown