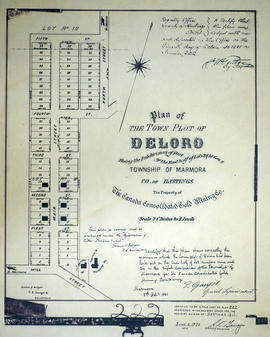 A certified reproduction of the "Plan of the Town Plot of Deloro, being the subdivision of part of the east half of Lots # 9 & 10, Concession 8 in Township of Marmora. The property of the Canada Consolidated Gold Mining Company." Surveyed by Evans and Bolger, P.L.S., and signed October 3, 1881.
This copy was made in 1972 of plan #222, as registered in the Hastings Land Registry Office.
Donated by Walter I. Watson, P. L. S.
Evans and Bolger