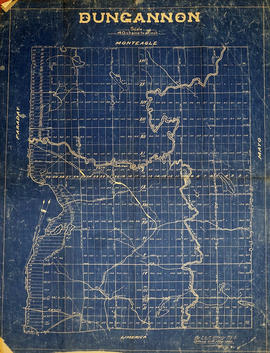 CA ON00156 M/M420-2169 - 2183/M420-2179
Item
25 Aug 1864 - 1900

Part of Map collection
A blueprint reproduction of a map of Dungannon Township in Hastings County, Ontario. The map features the names of neighboring townships, lot and concession numbers, creeks, rivers, and lakes. The Hastings Road borders the west side of the township. Surveyed by T. L.P. O'Hanly, P.L.S., and signed August 25, 1864 at Ottawa. Scale 40 chains to an inch.
The Canadian Northern Railway was added to the map at a later date, succeeding its incorporation in 1899.
O'Hanly, John Lawrence Power, P.L.S.