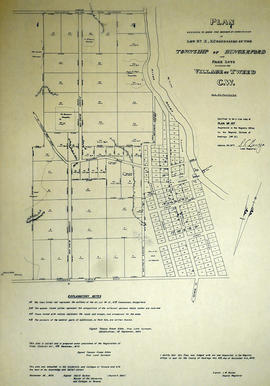 Plan of Lot 10 in the village of Tweed
A certified reproduction of the "Plan of Lot # 10 in Concession 10 of Hungerford Township into Park Lots adjoining the Village of Tweed C. W." The Village of Tweed depicts: grist mill, saw mill, and on opposite side of River: Fulling & Carding Shop. Surveyed by Thomas Fraser Gibbs, P.L.S., and signed September 1, 1864.
This copy was made in 1972 of plan #157, as registered in the Hastings Land Registry Office.
Donated by Walter I. Watson, O.L.S.
Gibbs, Thomas Fraser, P.L.S.