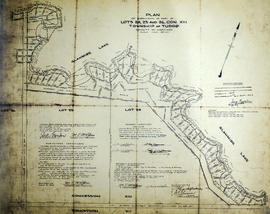 Subdivision of Part of Lots 24-26 in the Township of Tudor
A certified reproduction of the "Subdivision of part of Lots # 24, 25, 26, Concession XIII, Township of Tudor, owner V. A. McMurray." The area includes; Lots # 1 to 44, Blocks A to H, Glanmire Lake Road and Godfrey Road being north of the Road Allowance between Concession 12 & 13 and east of Road Allowance between Lots # 25 & 26. Surveyed by Michael J. McAlpine, O.L.S. and signed August 31, 1964.
Donated by Walter I. Watson, P. L. S.
McAlpine, Michael Joseph, O.L.S.