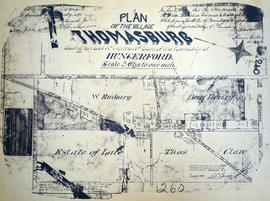 Plan of the village of Thomasburg
A certified reproduction of the "Plan of Village of Thomasburg, Lot # 1 in 4th Concession of Hungerford Township. Certified by Robert Gordon, Reeve, Thomas Graham, Clerk." Lot bounded by Road between Concession 3 & 4 (south), boundary between Huntingdon & Hungerford (north), Road between Concession 4 & 5 (north), and side line between Lots # 1 & 2 (east). Surveyed by Fraser Aylsworth Jr., P. L. S., and signed July 25, 1887.
This copy was made in 1972 of plan #260, as registered in the Hastings Land Registry Office.
Donated by Walter I. Watson, P. L. S.
Aylsworth, Charles Fraser Jr., O.L.S.