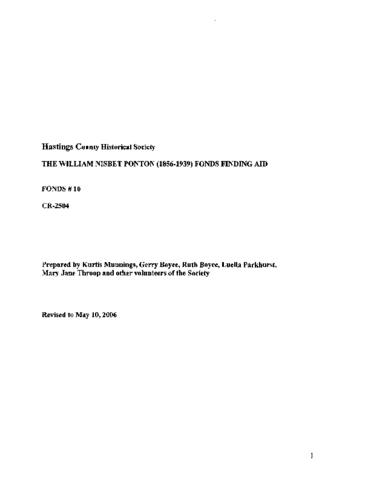 Zona de identificação
Código de referência
CA ON00156 Fonds 10
Título
Ponton family records
Nível de descrição
Arquivo
Dimensão e suporte
10 boxes of textual and graphic material.
Zona do contexto
Nome do produtor
(1856-1939)
História biográfica
William Nisbet Ponton, born in 1856 at Belleville, Ontario, was educated at Upper Canada College, the University of Toronto, B.A. 1877, M.A. 1878, and Osgoode Hall. He practised law in Belleville where he specialized in the administration of property and estates, and served for 27 years on the Belleville Board of Education in addition to acting as Secretary of the Chamber of Commerce.
Ponton was an executive of the Associated Boards of Trade of Ontario. Registrar of the Canadian Bar Association, President of the Ontario Bar Association, a member of the Council of the Canadian Red Cross, Grand First Principal of the Grand Chapter of Royal Arch Masons, Grand Master of the Grand Lodge of Canada A.F. & A.M., a Fellow and Vice-President of the Royal Empire Society, a Senator of the University of Toronto, Vice-President of the Old Boys' Association of Upper Canada College, and a bencher of the Law Society of Upper Canada. He commanded the 15th Battalion, Argyll Light Infantry, from 1892 to 1901.
He lived in Sidney Cottage on Trent Road (now known as Dundas Street West).
História do arquivo
Donated to the archives by Enid Ponton and by friends of the family.
Fonte imediata de aquisição ou transferência
Zona do conteúdo e estrutura
Âmbito e conteúdo
The fonds consists of 10 boxes of textual and graphic material about the Hutton-Ponton family. The fonds is organized chronologically by the following categories: Military and Civilian. The fonds consists of the following categories:
Boxes 1-3 files 1-26 (1879-1916 15th Battalion Argyll Light Infantry- correspondence: telegrams, financial/inspection reports, inventory lists, medal applications, order books, sergeant's mess meeting minutes, service rolls and how the infantry was named)
Boxes 3-5 files 27-46 (1896-1903 Belleville Rifle Range, 1896-1900 Bicycle Corps, 1900 Canadian Patriotic Fund, Deseronto Militia Company, Militia Headquarters-Ottawa: 1895-1906 discharge and pension documents, 49th Hastings Rifles Battalion order book, 1879-1917 infantry tests and military schools: applications, notebook of notes about Toronto School of Musketry, invitations to various events, letters, documents, militia orders and newspaper articles)
Box 5 files 46-53 (empty envelopes, documents about Queen Victoria's Jubilee, The Red Cross: booklet, The School for the Deaf: letters, the South African War: letters, applications and militia orders, World War 1 and "Wrinkles": letters and wall posters, pamphlets and newspaper clippings)
Box 6 files 54-64 (family papers: certificates, letters, notebook, family history:Hutton/Putton house, wills, estate matters and journal/travel/address book)
Boxes 6-7 files 65-76 (family accounts from 1869-1903)
Box 7 files 77-90A (Belleville Industrial Committee: minutes from meetings, letters, newspaper clippings and various documents about opening different factories in Belleville)
Boxes 7-8 files 91-101-2 (Land and Estate Papers: grants, deeds of land and mortgages and sale of part of a cricket field)
Box 9 files 102-106 (Legal papers: daily journal and legal documents)
Boxes 9-10 files 107-112-4 (Programs and invitations to various programs and events)
Box 10 files 113-117-2 (misc correspondence and newspaper clippings: letters, certificate, and notes)
Box 10 files 118-127 (misc business and other items: reports, letterheads, advertisements, postcards and brochures)
3 red books (The Quarterly Militia List:1897-1900)
small reddish brown book (Infantry Drill by Authority-1889)
2nd larger reddish brown book (Field Artillery Training-1914)
greyish book (The Militia Lists-1886)
Avaliação, selecção e eliminação
Zona de condições de acesso e utilização
Características físicas e requisitos técnicos
Instrumentos de descrição
Full finding aid available in PDF format.
Zona de documentação associada
Existência e localização de originais
Existência e localização de cópias
Unidades de descrição relacionadas
Zona das notas
Identificador(es) alternativo(s)
Earlier reference
CR-2504
Pontos de acesso
Pontos de acesso - Assuntos
Pontos de acesso - Locais
Pontos de acesso de género
Zona do controlo da descrição
Identificador da descrição
ponton-papers-fonds
Identificador da instituição
Regras ou convenções utilizadas
Datas de criação, revisão, eliminação
Entered by Nicholas VanExan, June 24, 2015.
Objeto digital metadados
Nome do ficheiro
Ponton_Papers.pdf
Mime-type
application/pdf
Tamanho do ficheiro
414.9 KiB
Transferido
8 de dezembro de 2016 11:15
Objeto digital (Matriz) zona de direitos
Objeto digital (Referência) zona de direitos
Objeto digital (Ícone) zona de direitos