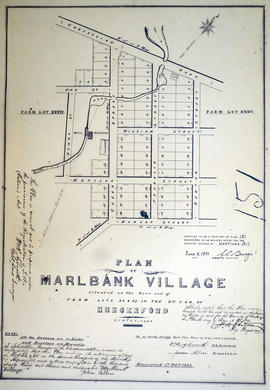 Plan of the village of Marlbank 1865
A certified reproduction of the "Plan of Marlbank Village situated on the rear end of farm Lots # 34 & 35 in 2nd Concession of Hungerford. Laid out by John Allen executor of the late James Allen." Surveyed by William R. Aylsworth, O.L.S., and signed February 1, 1865.
This copy was made in 1972 of plan #151, as registered in the Hastings Land Registry Office.
Donated by Walter I. Watson, O.L.S.
Aylsworth, William Robert, O. L. S.