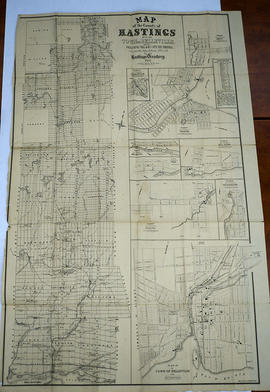 Hastings with Town of Belleville and principal villages
A map of Hastings County including the Town of Belleville and other principal villages:
Trenton, Madoc, Marmora, Tweed, Bridgewater, Stirling, Wicklow, Bangor, Herschel, Monteagle, Carl, Dungannon, Wollaston, Limerick, Cashel, Tudor, Grimsthorpe, Elzevir; Rawdon, Huntingdon, Hungerford, Sidney, Thurlow, Tyendinaga.
Scale: 3 miles =1 inch. Published by John P. Evans, P.L.S. in 1869.
Evans, John Dunlop, P.L.S.