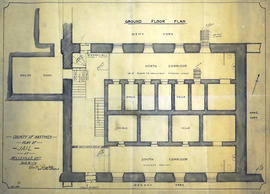 Floor Plans of Jail at County Court House
A plan of the Jail at the Hastings County Court House on Pinnacle Street in Belleville, Ontario. Sheet 1 features old cells and kitchen in basement. Sheet 2 features jail cells in the southeast jail building. Composed by Charles A. Mott, City Engineer, and dated January 1928.
Donated by Heritage Belleville in 2017.
Campbell, Charles Donald, O.L.S.