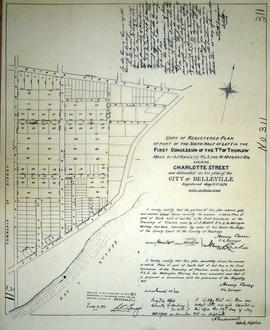 Plan of Lot 1 in the City of Belleville
A certified reproduction of the "Copy of Registered Plan of part of the south half of Lot # 1 in the 1st Concession of Thurlow Township, made by J. J. Haslett, P. L. S. for W. Murney shewing Charlotte Street in 1870." Signed by C. Fraser Aylsworth Jr., P.L.S., and signed March 29, 1892.
This copy was made in 1972 of plan #311, as registered in the Hastings Land Registry Office.
Donated by Walter I. Watson, P. L. S.
Aylsworth, Charles Fraser Jr., O.L.S.