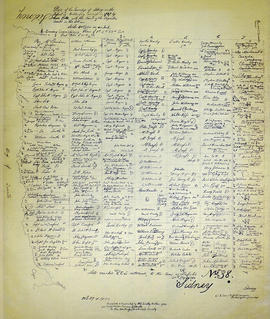 Map of Sidney Township in 1787 - 1981 rewrite
A recopy of the 1787 map of Sidney Township. The original map entitled "Plan of the Township of Sidney in the District of Mecklinburg. Surveyed in 1787 by Lewis Kotts, with the names of the proprietor inserted in the Lots." The recopy was completed by Mrs. Dorothy Ashton in 1981, for the Corby Public Library and Hastings County Historical Society. Scale 40 chains to an inch.
Donated by the Belleville Public Library in 2014.
Kotte, Lewis