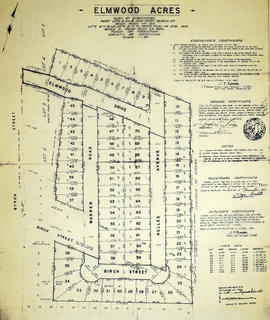 Elmwood Acres Subdivision in the Town of Trenton
A certified reproduction of the "Elmwood Acres Subdivision of part Lots # 3 & 4, part of Birch Street...Town of Trenton, County of Hastings." The area includes; Lots # 1 to 70, west of the Township of Sidney and east of Byron Street, being Lots on Elmwood Drive, Warren Road, Nelles Avenue and Birch Street. Surveyed by John Thomas Ransom, O. L. S. and signed October 8, 1960.
Donated by Walter I. Watson, P. L. S.
Ransom, John Thomas, P.L.S.