Showing 3 results
Archival description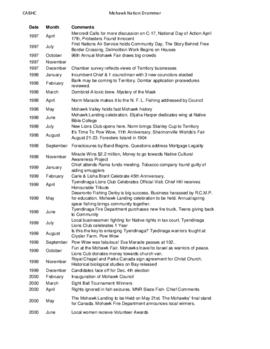 The Mohawk Nation Drummer was a newspaper published in the Tyendinaga Mohawk Territory.
CA ON00156 DA 2007.08
Collection
c.1952-c.1963
Collection comprises:
Identity card of Ira Claus, aged 68, member of the Mohawks of the Bay of Quinte [c.1952]
'In Memoriam' book (supplied by White Funeral Home, Deseronto) for Ira Alfred Claus, died Mar 18, 1957, aged 73, Brant St., Deseronto, includes names of the bearers and visitors
Particulars of War Veteran's Allowance payable to Bertha Claus, widow of Ira, from Mar 19, 1958
Statement of contents insurance coverage of Bertha Claus, Thomas Street, Deseronto, with the John S. White Insurance Agency, Deseronto, Feb 11, 1959
'Souvenir Booklet published by the 1960-1961 Council of Tyendinaga Indian Reserve, Deseronto, Ontario, Canada' [1961], front page torn
Photograph of boy's hockey team, sponsored by Sam's Aluminum [after 1963]
File of research materials relating to First Nations in Eastern Ontario
CA ON00156 2016-100
File
2016
Outline of Professor Donald B. Smith's forthcoming book The Blind Spot: Canada and the "Indians" in Canada's First Century. A Study of non-Indigenous Canadians' perspectives on the First Nations from 1867 to the White Paper of 1969, with copies of some research materials including:
'The Indian in "the Great" Canadian Society: A Newspaper Series on People of Tyendinaga': series of articles in the Kingston Whig Standard, February 22nd to 27th, 1965
'As A Teacher On The Reserve She Came To Know The Indians': photocopied article from the Napanee Beaver of October 12th, 1966 by Celia File
Smith, Donald B.