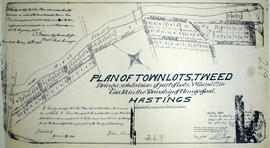 Subdivision of Town Lots 11-12 in the village of Tweed
A certified reproduction of the "Plan of Town Lots, Tweed, being a subdivision of Lots # 11 and 12 in Concession 10, Township of Hungerford, for John Alexander." Surveyed by C. Fraser Aylsworth Jr. P. L. S., and signed May 26, 1888.
This copy was made in 1972 of plan #269, as registered in the Hastings Land Registry Office.
Donated by Walter I. Watson, P. L. S.
Aylsworth, Charles Fraser Jr., O.L.S.