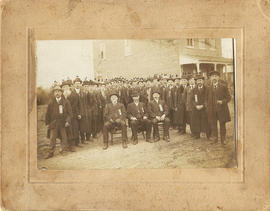 Ancient Order of United Workmen, Lodge 262 photograph
CA ON00156 2011-52
Item
c.1900
Photograph of members of the Ancient Order of United Workmen, Lodge 262 (Ameliasburgh) and two newspaper clippings from 1983 relating to the society.
Individuals identified are:
Seated: 1. ? Carnrite [Carnrike?]
James E. Glenn

Albert Lont

Dorland Fox

Dr. File M.D.

Moran Lont

Lewis Lont

Fred File

Gil Choat?

Byron Frederick

Ferris Wood

Francis Wood

John Tice

James A. Van Cott

William Bisdee

Charles Wood

Jessie Sprong

Albert Crosby

Will Reddick

Edgar Redner?

Fred Lauder?