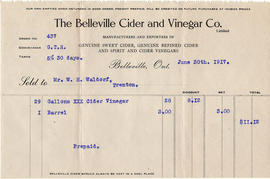 CA ON00156 1985-01
Fonds
1904-1938
This fonds contains one folder of family records, twenty-seven folders of invoices from the following businesses:
W.M. Davies Pork Packers and Provision Merchants of Toronto, 1917
Dominion Sugar Companies Limited of Chatham, 1917
S. Domenico, Wholesale Fruit Merchants of Belleville, 1912-1917
Eby-Blain Limited, Wholesale Importing and Manufacturing Grocers of Toronto, 1916-1917
Grand Trunk Railroad System, 1917
R.B. Hayhoe & Company Importers of Teas and Coffees, Confectioners Supplies of Toronto, 1917
H.J. Heinz Company of Toronto, 1916-1917
Hodgens and Roberts Limited Tobacconists, Scales and Roberts Company Limited Tobacconists of Toronto, 1917
L.P. Hughes Flour and Feeds, Seeds, Rolled Oats and All Kinds of Breakfast Cereals of Belleville, 1917
Hydro Electric Power Commission of Ontario – Central Ontario System-Trenton, 1917-1918
P.C. Larkin and Company Tea Merchants of Toronto, 1917
S.B. McClung, Paints, Oils, Glass, etc. of Trenton, 1917
W.E. Mayhew – Trent Valley Mills of Trenton 1916-1917
William Patterson and Son Company of Belleville, 1916 to 1918
Wm. Rennie Company Limited Seeds of Toronto, 1916-1917
George A. Robertson and Son Limited, Wholesale Groceries of Kingston, 1908-1917
John Sloan & Company of Belleville, 1917
Swift Canadian Company of Toronto, 1917
Telfer Bros. Limited of Toronto, 1917
Trenton Garage, 1916 1917
White and Company Limited Fruit, Produce and Fish of Toronto, 1917
Dalley Products Limited of Hamilton, 1917
W.J. Crothers Company of Kingston, 1917
R.B. Cooper of Belleville, 1917
Belleville Creameries, 1917
Belleville Cider and Vinegar Company, 1917
Bell Telephone of Trenton, 1917
Armstrong and Paffard of Toronto, 1917
There is also: one folder containing pages from a ledger, one cash book volume, one folder of sales slips with a sales slip book, and one folder of receipts, orders and correspondence.
There is a folder containing land deeds and personal papers.
Waldorf, William H.