Showing 2 results
Archival description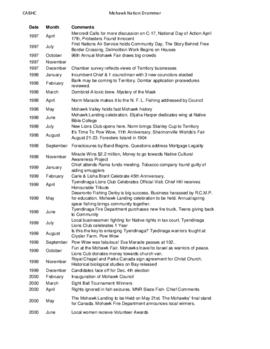 The Mohawk Nation Drummer was a newspaper published in the Tyendinaga Mohawk Territory.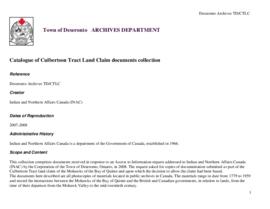 Culbertson Tract Land Claim collection
CA ON00156 DA TD/CTLC
Collection
2007
This collection comprises documents received in response to an Access to Information request addressed to Indian and Northern Affairs Canada (INAC) by the Corporation of the Town of Deseronto, Ontario, in 2008. The request asked for copies of documentation submitted as part of the Culbertson Tract land claim of the Mohawks of the Bay of Quinte and upon which the decision to allow the claim had been based.
The documents in this collection are all photocopies of materials located in public archives in Canada. The materials range in date from 1779 to 1959 and record the interactions between the Mohawks of the Bay of Quinte and the British and Canadian governments, in relation to lands, from the time of their departure from the Mohawk Valley to the mid-twentieth century.