Showing 3 results
Archival description
The Mohawk Nation Drummer was a newspaper published in the Tyendinaga Mohawk Territory.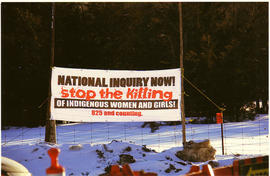 Photographs by Bobby-Jo Morris
CA ON00156 2014-18
Fonds
2014
Colour photographs taken by Bobby-Jo Morris of two events:
1) Protests on the Tyendinaga Mohawk Territory concerning missing and murdered Indigenous women, 4 March 2014 (16 photographs and four pages of explanatory notes)
2) Flooding in Foxboro, Belleville and Millton, Ontario in April 2014 (30 annotated photographs)
Morris, Bobby-Jo
CA ON00156 2013-22
Fonds
1982-2000
The fonds consists of 1 box of textual records and 7 audio tapes. The fonds consists of research notes and 7 tapes of interviews with the Tyendinaga Mohawk elders relating to the research, writing and production of Rona Rustidge's book "Tyendinaga Tales".
Rustige, Rona