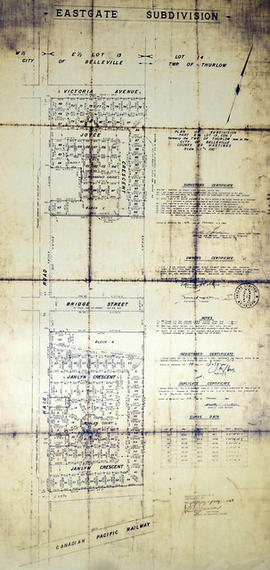 East Gate Subdivision in the City of Belleville
CA ON00156 M/M440-2374
Unidad documental simple
10 Feb 1964

Parte deMap collection
A certified reproduction of the "Subdivision of Part of East ½ of Lot # 13, Concession 1, Township of Thurlow, now Belleville laid out for Maple View Realty Ltd. Pres. Maurice Rollins." The area includes; Lots # 1 to 110 and Blocks A, B, C, D, E, F and Haig Road, Joyce Crescent, Richmond Grove, Janlyn Crescent, Whalen Court, all east of Haig Road. Surveyed by Walter I. Watson, O. L. S. and signed February 10, 1964.
Donated by Walter I. Watson, P. L. S.
Watson, Walter Irvine, O.L.S.