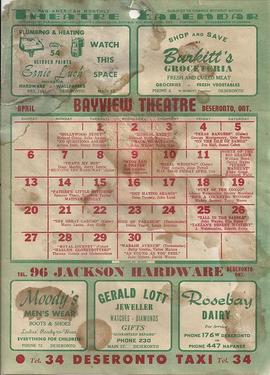 Items found in 77 Brant Street, Deseronto
CA ON00156 DA 2011.27
Collection
1931-1955
Found in file labelled "Old Papers Found 77 Brant Street, Deseronto, 1997"
Papers, including:
Directory listing for a canteen in Deseronto for Miss A. Mungo, 1931;
Chattel mortgage for Mrs Alice Freeman, 785 Princess Street, Kingston, 1949;
Calendar of movies playing at the Bayview [Naylor's] Theatre, Deseronto, Ontario, during April [1952]. Includes advertisements for Ernie Luck's Plumbing & Heating, Burkitt's Groceteria, Moody's Men's Wear, Gerald Lott's Jewellery, and Rosebay Dairy. Movies include Hollywood Story, Illegal Entry, Texas Rangers, That's My Boy, Wing and a Prayer, Royal Wedding, Father's Little Dividend, The Mating Season, Fury of the Congo, The Great Caruso, Bird of Paradise, Tall in the Saddle and Wabash Avenue.
Letter from Avis [Mungo?] on the S.S. Ralph Budd, heading for Fort William and Port Arthur [Thunder Bay], written October 29, 1955 (and envelope addressed to Mr Marshall Claus, 44 Johnston Street, Kingston, Ontario);
Sheet of recipes for date bread, raisin rolls and basic muffins (undated);
Card for Art Nelson, Parkdale wines, Toronto (undated)
List of prices for various named items (including 'inca tie tack').