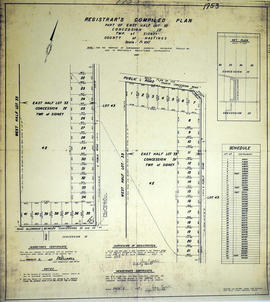 Registrar's Plan of Lot 33 in Sidney Township
A certified reproduction of the "Registrar's Compiled Plan of part of East half of Lot #33, Concession IV." The area includes; part of the east half of Lot # 33, Concession IV, Sidney Township, Lot # 33 being between Wallbridge Loyalist Road on West and Philburn Rd. Surveyed by Ransom and Watson, O. L. S. and signed March 9, 1967.
Donated by Walter I. Watson, P. L. S.
Watson, Walter Irvine, O.L.S.