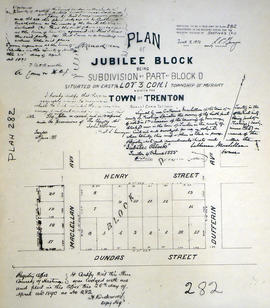 Plan of Jubliee Block in the Town of Trenton
A certified reproduction of the "Plan of Jubilee Block, being subdivision of part of Block D situated on the east half of Lot # 3, Concession 1, Township of Murray, now in the Town of Trenton for Catherine MacLellan, owner." Surveyed by John D. Evans, P.L.S., and signed June 4, 1888.
This copy was made in 1972 of plan #282, as registered in the Hastings Land Registry Office.
Donated by Walter I. Watson, P. L. S.
Evans, John Dunlop, P.L.S.