Mostrando 3 resultados
Descripción archivística
CA ON00156 2018-062/1
Unidad documental simple
2009
DVD of the story of the 1958/1959 Belleville McFarlands.
History Lives Here Inc.
Toronto Telegram article on the Belleville McFarlands
CA ON00156 2019-116
Unidad documental simple
9 January 1960
Pages from the 9 January 1960 issue of the Toronto Telegram's Weekend Magazine with a story by Frank Lowe on 'The City that went on a Hockey Jag', concerning the debt of $110,000 run up by the City of Belleville in its support of the Belleville McFarlands hockey team between 1956 and 1959.
Lowe, Frank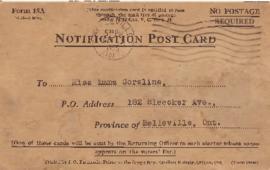 CA ON00156 2018-062/2
Unidad documental simple
1935
Voter's registration card for Miss Emma Gorsline of 182 Bleecker Avenue, Belleville, Ontario, entitling her to vote at 179 Foster Avenue, Belleville, in the Federal Election held on 14 October 1935.
Government of Canada