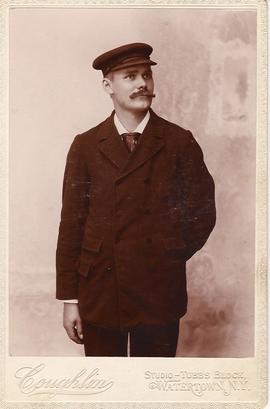 CA ON00156 2010.06
File
c.1860-1920
The photographs include members of the Smith family. Some were taken in Napanee, Belleville, Brighton and Deseronto, Ontario, others in Watertown and Carthage, New York and Plainwell, Michigan.
Many of the photographs had become detached from the album and their captions. The names mentioned on the pages of the album (not all of them with associated photographs) are:
Irve Smith
E. M. F. Thibault
Samuel Smith
Jim Rattery
Robert Smith
Chas.
Annie Belton
Miss Roblin, Brighton, Ontario
Henry Ford, Watertown, New York
Bill Charnside, Watertown, New York
Fred Smith
Carol Jane 1946
Debo
Eliza & Frank Fulligar & Laura, Plainwell, Michigan
Dick Greene
Libbie & Henry Hawley & Bernice
Alice Campbell
Mrs Harrick
Joe Gonkins, Watertown, New York
Chas. Smith
John See & family
Bill Davison, Charlotte & Hugh
John Breeze
Sam
Neal Maloney
Irvine Smith
Fred Smith
Information from Eric and Linda Wilde shows that many of these individuals are descendants of Samuel See (1808-1854) and his sister Ann (1803-1871), who married Benjamin Smith (1808-1895). They were born in England and settled in Lennox and Addington County, Ontario.