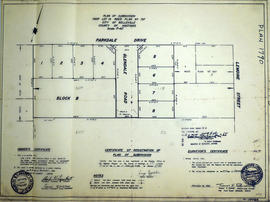 Subdivision of Part of Lot 19 in the Belleville
CA ON00156 M/M440-2412
Pièce
21 Dec 1966

Fait partie de Map collection
A certified reproduction of the "Subdivision of part of Lot # 19, Reg'd plan no. 797, Belleville for Charles W. Lambert Ltd." The area includes; Lots # 1 to 8 and Block A-B west of Lemoine St., south of Parkdale Drive and both sides of Glendale Road and north of College St. West. Surveyed by Thomas S. Ransom, O. L. S. and signed December 21, 1966.
Donated by Walter I. Watson, P. L. S.
Ransom, Thomas Saunders, P.L.S.