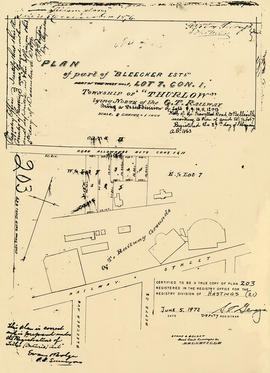 Plan of Bleecker Estate in the Township of Thurlow
A certified reproduction of the "Plan of part of Bleecker Estate, part of west half of Lot # 7 in 1st Concession Thurlow." The Estate lay north of the Grand Trunk Railway being a re-subdivision of Lots # 8, 9, 10, 11 & 13. Surveyed by Evans and Bolger, P. L. S. Plan registered February 27, 1863.
This copy was made in 1972 of plan #203, as registered in the Hastings Land Registry Office.
Donated by Walter I. Watson, P. L. S.
Evans and Bolger