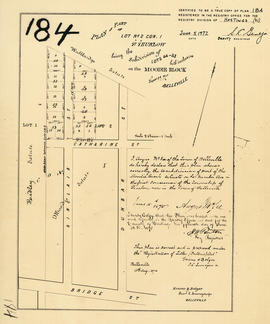 Plan of part of Lot 2 in the City of Belleville
CA ON00156 M/M440-1860
Pièce
15 Aug 1874

Fait partie de Map collection
A certified reproduction of the "Plan part of Lot # 2, Concession 1, Thurlow, being the subdivision of Lots # 44-53 both inclusive on the Moodie Block, Town of Belleville for Angus McFee." Surveyed by Evans and Bolger, P.L.S. and signed August 15, 1874.
This copy was made in 1972 of plan #184, as registered in the Hastings Land Registry Office.
Donated by Walter I. Watson, O.L.S.
Evans and Bolger