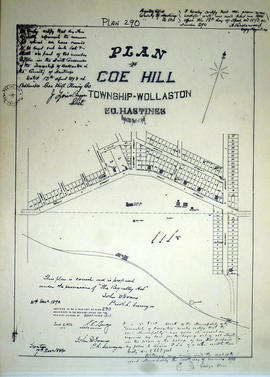 Plan of Coe Hill in the Township of Wollaston
A certified reproduction of the "Plan of Coe Hill, Township of Wollaston, Lot # 15, Concession 9." Surveyed by John D. Evans, P.L.S., and signed December 31, 1892.
This copy was made in 1972 of plan #290, as registered in the Hastings Land Registry Office.
Donated by Walter I. Watson, P. L. S.
Evans, John Dunlop, P.L.S.