Showing 3 results
Archival description
Materials relating to William Nisbet Ponton
CA ON00156 2014-17
Collection
1864-1906
Four items originally owned by William Nisbet Ponton:1) Writ of summons addressed to Francis Papineau, James Blacklock and James Hill of Belleville, defendants in a case brought by Henry Fowler, served on 10 May 18652) Typescript copy of Section 1...
Ponton, William Nisbet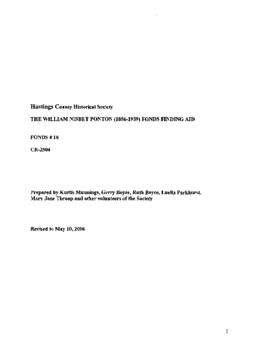 CA ON00156 Fonds 10
Fonds
1809-1965
The fonds consists of 10 boxes of textual and graphic material about the Hutton-Ponton family. The fonds is organized chronologically by the following categories: Military and Civilian. The fonds consists of the following categories:Boxes 1-3 file...
Ponton (family)