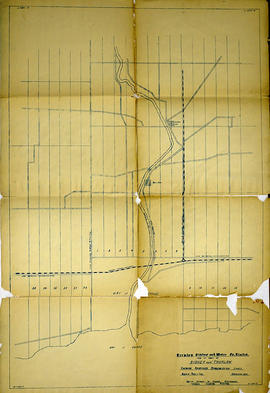 Trenton Electric & Water Co. Limited in Thurlow and Sidney Townships
CA ON00156 M/M430-2998 - 3001/M430-2999
Item
31 Mar 1910

Part of Map collection
An original map produced for the Trenton Electric & Water Co. Limited, concerning proposed transmission lines within the Townships of Thurlow and Sidney. However, the map also features railways, roads, mills and land boundaries. Dated March 31, 1910. Scale: 1/4 mile = 1 inch. Map composed by Smith, Kerry and Chace Engineers located in Toronto, Winnipeg, Calgary and Vancouver.
The map includes the first 4 concessions, Lots 33-38 in Sidney Township and Lots 1-13 in Thurlow Township.
Donated by David Pershick.
Smith, Kerry and Chace Engineers