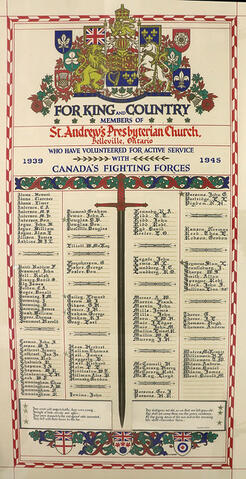 Zona de identificação
Código de referência
CA ON00156 2023-080
Título
Honour rolls for members of St. Andrew's Presbyterian Church
Zona do contexto
Nome do produtor
(1830-)
História administrativa
On February 17, 1823 the Surveyor General Thomas Ridout approved an Order of Council allowing John Turnbull, William H. Wallbridge, William Zwick, and Roswell Leavens of the Town of Belleville; and Charles Bonisted of the Township of Sydney to form a Presbyterian Church in Belleville on Lots 30 and 31 on the east side of Church Street at the corner of Victoria Avenue. The minister's house was built off Church Street below the Armory. The first church was erected on that spot in 1830, known as old St. Andrew's and the first reverend was Reverend James Ketchan who left for Scotland in 1844. St. Andrew's was then left without its own minister for five years. Up until 1858 the church was lit by tallow candles, at which time gas was secured by laying a main to the corner of John and Hotel Streets. A manse for the pastor was built on George Street in 1866.
In 1870, a brick building replaced the existing wooden structure. This building, which contained Belleville's only chime bells, was destroyed by fire in 1894. The current building was built in 1895 and seats about 800 people. In the time between the church fire and the new edifice being built, the congregation met at the Ontario Business School. By the end of 1923 St. Andrew's membership was 395. In 1925, the church voted against entering the United Church of Canada, however many left after the vote including the church's leader, Reverend A.S. Kerr who was replaced by R.G. Stewart.
The postwar boom saw the congregation grow, as membership reached 770 by 1954. However, attendance began to decline at the end of the twentieth century.
St. Andrew's first woman minister, Reverend Anne-Marie Jones, was appointed in 2001.
Fonte imediata de aquisição ou transferência
Transferred from the Hastings and Prince Edward Regiment Museum in September 2023.
Zona do conteúdo e estrutura
Âmbito e conteúdo
One framed and four unframed honour rolls from the Second World War, recording the names of members of St. Andrew's Presbyterian who served in the armed forces.
Avaliação, selecção e eliminação
Zona de condições de acesso e utilização
Características físicas e requisitos técnicos
Instrumentos de descrição
Zona de documentação associada
Existência e localização de originais
Existência e localização de cópias
Unidades de descrição relacionadas
Zona das notas
Identificador(es) alternativo(s)
Pontos de acesso
Pontos de acesso - Assuntos
Pontos de acesso - Locais
Pontos de acesso de género
Zona do controlo da descrição
Identificador da descrição
Identificador da instituição
Regras ou convenções utilizadas
Datas de criação, revisão, eliminação
Objeto digital (URI externo) zona de direitos
Objeto digital (Referência) zona de direitos
Objeto digital (Ícone) zona de direitos