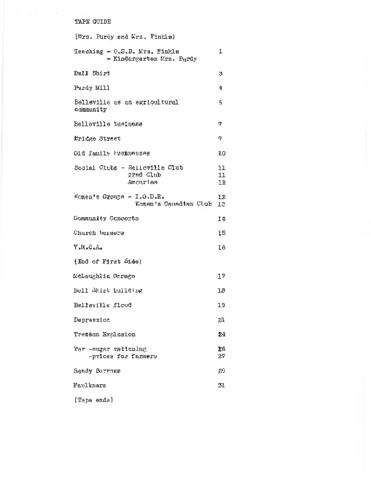 Zone d'identification
Titre
Finkle, Fanny Gertrude/Beth Purdy
Date(s)
14 November 1974 (Production)
Étendue matérielle et support
Zone du contexte
Nom du producteur
(1895-1990)
Notice biographique
Fanny Gertrude Finkle (Curry) was born on September 1, 1895 in Stockdale, Northumberland County. She was the daughter of William Brooks Curry and Selina Isaacs. She married William Henry Finkle, co-founder of Bell Shirt Company Limited, on September 1, 1923. Before her marriage she was a teacher at the Ontario School for the Deaf. Fanny Finkle was a past president of the Women's Association, the Queen Alexandra School Home and School Association, the Women's Canadian Club and the Belleville Community Concert Association. She was a member of Albert College Guild, the YMCA Board and Belleville General Hospital Auxiliary. She died on December 6, 1990.
Nom du producteur
(1900-1995)
Notice biographique
Beth Purdy was born on August 27, 1900 in Smith's Falls, Ontario. She was the daughter of George Haley and Rhoda J. Pixley. She married Albert Edward Purdy on September 9, 1929. She taught kindergarten for some time and was a member of St. Thomas Anglican Church in Belleville. Mrs. Purdy was active in the Women's Christian Association, Hastings County Historical Society, Quinte Morning Music Club and the Hastings County Museum. In 1992, she received the medal for the 125th anniversary of Confederation of Canada honouring Canadians who had made a significant contribution to their fellow citizens, community or country.
Source immédiate d'acquisition ou de transfert
Zone du contenu et de la structure
Portée et contenu
Fanny Finkle and Beth Purdy discuss teaching, life in Belleville, the Trenton explosion and the Faulkners.
Évaluation, élimination et calendrier de conservation
Zone des conditions d'accès et d'utilisation
Conditions de reproduction
Notes de langue et graphie
Caractéristiques matérielle et contraintes techniques
Zone des sources complémentaires
Existence et lieu de conservation des originaux
Existence et lieu de conservation des copies
Unités de description associées
Zone des notes
Identifiant(s) alternatif(s)
Zone du contrôle de la description
Identifiant de la description
Identifiant du service d'archives
Règles et/ou conventions utilisées
Dates de production, de révision, de suppression
Objet numérique - métadonnées
Objet numérique (Matrice) zone des droits
Objet numérique (Référence) zone des droits
Objet numérique (Imagette) zone des droits