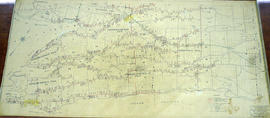 Hydro-Electric Power Commission of Ontario, Napanee Section
CA ON00156 M/M430-2995 - 2996, 3018 - 3021, 3031/3019
Item
23 Jan 1942

Part of Map collection
An original map produced for the Hydro-Electric Power Commission of Ontario, concerning hydro power lines, stations and transformers. However, the map also features railways, roads and land boundaries.
This map is of the South Section - Napanee Rural Power District. The total area includes parts of Ernestown, Frederickburgh South, Frederickburgh, Richmond, Tyendinaga, and Adolphustown Townships. Dated January 23, 1942. Scale: 2 inches = 1 mile.
Donated by David Pershik.