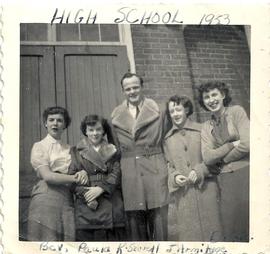 Photographs and papers from Bev Boomhour
CA ON00156 DA 2014.25
File
1953-2006
Three photographs loaned for scanning:
1) 1953 at Deseronto High School of Bev Cole (later Boomhour), Paula Akey, Ken Scovell, Jean Armitage and Donna Cole
2) 1961 taken inside Lucky Strikes Lanes, including Hugh and Winnie Magee and Vern Boomhour
3) 1968 Brownie pack picking up garbage on the site of the former Deseronto Public School (blurry). Pack leaders were Dorothea Keech and Bev Boomhour.
Papers for the Archives:
4) May 31st, 1979 Deseronto Public School 'Items of Interest' letter
5) 2006 Municipal Elections list of nominations for the Town of Deseronto, with notes of those elected.