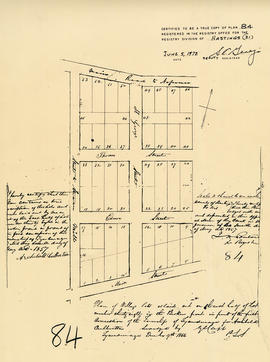 Plan of Lot 38 in the village of Millpoint (Deseronto)
A certified reproduction of the Plan of Village lots as laid out on the east half of Lot 38 in the Broken Front of the 1st Concessionof the Township of Tyendinaga for Archibald Culbertson. Surveyed by Publius V. Elmore, P.L.S. and signed May 7, 18...
Elmore, Publius Virgillius, D.P.S.