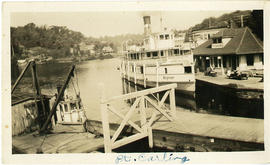 CA ON00156 2014-49
Fonds
1872-2000
The fonds consists of 633 photographs, 23 negatives, letters, sympathy cards, business cards, newspaper clippings, genealogy and family history and a few business papers belonging to the Smith family, primarily Frank Smith of Madoc. The photographs found in this fonds mainly depict the area around Madoc, with some from Bancroft, Maynooth and other places in Hastings County. A large number of the photographs were taken on vacation or while travelling through Canada and the United States. The photographs were taken in Florida, Atlantic City, Pittsburgh, New Jersey, Philadelphia, Healy Falls, Shaw Falls, Coppercliffe, Ottawa, Port Carling, Gaspe, Napanee, Madoc, Bancroft, Manitoba, Saskatchewan and New Brunswick.
The families primarily depicted in the photographs are the Smith family, McCaw family, Swayne family and Cassidy family. Many of the photographs have names and places written on the back of them. Other people mentioned on the photographs include: Jean Phillips Thompson, Mary Smith Barton, Aunt Vera, Muriel Smith, George Wright, Hugh Pepper, Frank Smith, Frank and Jane Packer Ingersoll, Elizabeth Baker, Martin Porter, Kay Seaton, Helen Whycock, Bessie Woods, Tom Ross, Jack and Ann Yonkers.
There are 3 letters from Henry and Eliza Smith between 1872 and 1874; a birth certificate for Frank Smith, news clippings on the Smith and McCaw families and events in Madoc. There are also family trees and other genealogical information connecting the Smith, McCaw and other families. Much of the information appears to have been gathered by Mary Elizabeth Barton (born Smith: lived from 1921 to 2017).
Smith (family)