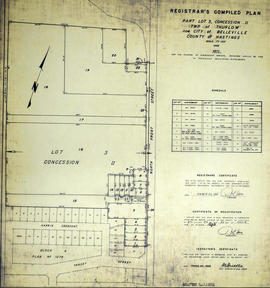 Registrar's Plan of part of Lot 3 in the Township of Thurlow
A certified reproduction of the "Registrar's Compiled Plan: Part Lot # 3, Concession 2, Township of Thurlow, now City of Belleville." The area includes; Lots # 1 to 24, west of North Front Street and north from Tracey Street. Prepared by S.C. Geneja CST, Registry Office, County of Hastings and signed March 23, 1966.
Donated by Walter I. Watson, P. L. S.
Geneja, Stephen Conrad, CST