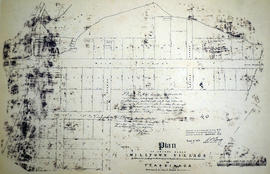 Plan of Smith's Block in the village of Milltown
A certified reproduction of the Plan of Smith's Block in Milltown Village, being part of the north half of of lot eleven in 1st Concession Tyendinaga Township. Depicted are many industrial buildings around the mill and River; 2 saw mills, 2 grist mills, a furnace, and a tannery. Surveyed by John J. Haslett, P.L.S. and signed October 19, 1852.
This copy was made in 1972 of plan #40, as registered in the Hastings Land Registry Office.
Donated by Walter I. Watson, O.L.S.
Haslett, John James, P.L.S. & D.P.S.