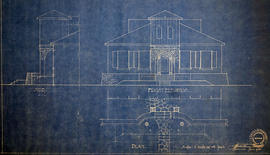 Plan of Elevations on Ponton Home in Belleville
A blueprint plan of the front and side elevations of the Veranda at the Ponton Home on west Dundas Street (Highway 2). Over the door "Quinte Cottage" is written. Drawn by John Arnold Thomson, Architect, and signed June 11, 1941. The house is now demolished.
Donated by the Heritage Belleville Committee in 2017.
Thomson, John Arnold