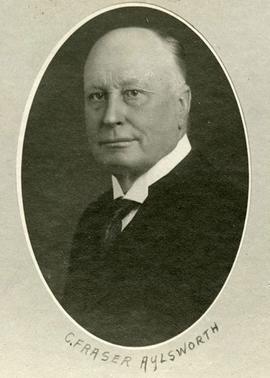 Aylsworth, Charles Fraser Jr., O.L.S.
C. Fraser Aylsworth was born on April 21, 1862, in Madoc, Hastings County, Ontario, to parents Elizabeth June Gillespie and Charles Fraser Aylswroth Sr. (a Provincial Land Surveyor).
Following in the footsteps of his father, Fraser Aylsworth was employed as an Ontario Land Surveyor throughout his career. He married his first wife, Minnie Deans on September 21, 1887 at Perth, Ontario. Following her passing in 1906, Aylswroth was married to Louise Victoria Brenton on March 22, 1910 at York, Ontario. He died in Belleville at the age of 77 on December 4, 1939.